This Event
Hay Music: Chris Brannick and Sara Stowe
Saturday 22nd April 2017, 7pm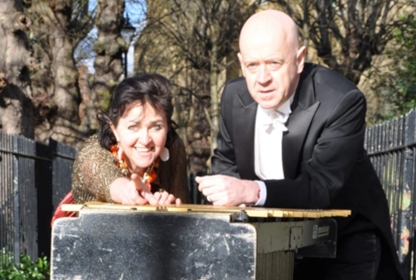 Sara Stowe and Chris Brannick's duo is unique in its exploration and development of music for voice and percussion. Their concerts are linked to the idea that from ancient times, singing and percussing have been a musical accompaniment to life through religious ritual, war, labour and work.

Incorporating into their programmes more recently developed pitched instruments - vibraphone and marimba - Chris and Sara lift these primal sounds of rhythm and melody, out of ancient times and into the present. Their repertoire looks in several directions for inspiration. Our concert looks East and West, medieval and contemporary, folk and theatre.

Voice and percussion are intimately connected with folk music and they kick the programme off with a velvety traditional song from Brazil – before upsetting the proceedings with the world première of Jason Hodgson's anarchic 'Lionheart 1189' and the alarming discovery of the first mail-order medieval computer!

Peter McGarr's 'Haunts' evokes the chill of the Saddleworth Moors in a quirky and strange soundworld of harmonicas, flowerpots and water! Vidales' beautiful settings of four Haiku by the classic Japanese poet Basho contrasts elegantly with the bizarre chance juxtaposition of Cage's 'Sonnekus 2' and Satie's cabaret song 'Je Te Veux' – heard today in a version that you're unlikely to hear again with the rarely played baritone ukulele.

Medieval and contemporary sit side by side in traditional songs from the wandering singers of the Trouveres and Troubairitz, and Tansy Davies' modern setting of medieval song texts and Roger Marsh's haunting 'Lullaby' to words by the Elizabethan poet Thomas Dekker.

A world première by Adrian Sutcliffe for nakers (medieval drums, the forerunners of the modern timpani) will reflect on times past, with a nod to modern groove. Also from the contemporary angle is Paul Burnell's thought-provoking Little Era Ending Songs – meditations on the end of the world as we know it – and Julie Sharpe's new work, as yet untitled.

"Entertaining, witty and skilful performances from two of Britain's top classical musicians who have collaborated with, amongst others, Ensemble Bash, Luciano Berio and Emma Kirkby" (Rhythm Song)

Tickets sold by Richard Booth's Bookshop on behalf of Hay Music.
Please note: this concert takes place at St. Mary's Church, Hay-on-Wye.