COMING SOON...
TICKET INFO
COST
Adults from £10.00
Under 15s £6.00
(where applicable)
ORDER ONLINE
Add tickets to your basket and pay by card. Please bring your emailed receipt (on paper or smartphone) and exchange for tickets at the door.
ORDER BY PHONE
Telephone: 01497 822010
12pm to 6pm
PLEASE NOTE
Cinema Tickets are
NON-REFUNDABLE

"Holding hands at the movie show, when all the lights are low, may not be new, but I like it, how about you?"
THIS SCREENING
NT Live: Julius Caesar  (12A)
Live Theatre
Thursday 22nd March 2018, 7pm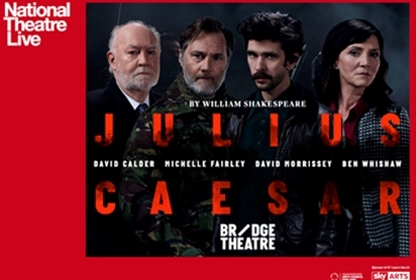 Certificate 

Duration 3hrs approx
Ben Whishaw (The Danish Girl, Skyfall, Hamlet) and Michelle Fairley (Fortitude, Game of Thrones) play Brutus and Cassius, David Calder (The Lost City of Z, The Hatton Garden Job)plays Caesar and David Morrissey (The Missing, Hangmen, The Walking Dead) is Mark Antony. Broadcast live from The Bridge Theatre, London.
Caesar returns in triumph to Rome and the people pour out of their homes to celebrate. Alarmed by the autocrat's popularity, the educated élite conspire to bring him down. After his assassination, civil war erupts on the streets of the capital.
Nicholas Hytner's production will thrust the audience into the street party that greets Caesar's return, the congress that witnesses his murder, the rally that assembles for his funeral and the chaos that explodes in its wake.
Why not join us for a light supper, consisting of items selected from our café menu? Available one hour before the show.
Supper Vegetarian option
£15.00