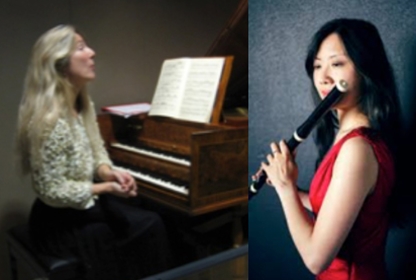 Pre-concert discussion at 4.30pm in The Granary: The historical and social background to Anglo-Indian musical collaboration, with the musicians and Dr. Katherine Butler Schofield (Kings College, London) a recognised authority on the subject. Free, everybody welcome. Teas and refreshments available.

Arranged and adapted by William Hamilton Bird, the 'Oriental Miscellany' is the first published transcription of Indian vocal music in Western notation taken from live performance. Published in Calcutta in 1789 it was considered an important historical source, reflecting Western fascination with the East, and the vogue for Hindustani Airs. The publication also includes a Sonata for harpsichord and flute which includes many of the songs found in the collection.

Jane and Yu-Wei will present this music in an informal way, and tell the fascinating story behind the people who collected and transcribed these pieces giving a sense of the cultural life in India at the end of the 18th century through the diaries and letters of accomplished women.

"I have now the pleasure of enclosing you a Copy of some Indostaun Airs. You may be assured they are exact, and to me they are pretty. Norwithstanding this I cannot be quite clear that they will please you; for notes cannot express Style, and that of these airs is very peculiar and new. I have often made the Musicians tune their instruments to the harpsichord that I might join their little band. They always seemed delighted with the accompaniment of the harpsichord and sung with uncommon animation, and a pleasure to themselves, which was expressed in their faces ... The Governor's little Band from whom I took down these airs consisted of Three Singers; two performers with a kind of large guitar, and their usual accompaniment of drums ... The strings of the Guitar were all tuned in unison. Through the whole air they continue sweeping these strings which produces an uninterrupted Buz, resembling that of an insect which I have often met with."

Accomplished harpsichordist Margaret Fowke, an avid collector of Hindustani Airs, writes enthusiastically to her father. Her family formed part of a wide musical circle that included William Hamilton Bird, and it seems likely that Margaret may have contributed some of the airs to the Oriental Miscellany, perhaps even those she had taken down from the Governor's little Band. Originally from Dublin, Bird is identified in the Bengal Calendar and Register for 1790 as a 'Conductor of public amusements'. Promoting concerts at venues such as the Old Court House, by composers such as Corelli, Giordani and Haydn, could be a risky business, and according to the 1789 Calcutta Gazette, Bird didn't attract the necessary 100 subscribers for a performance, and had to cover costs himself: "His wishes to amuse are (and always will be) much more predominant than those of emolument". The vogue for Hindustani Airs came at just the right moment. Bird's debts were mounting as can be seen from a notice in the Calcutta Chronicle in 1788 requesting the indebted, "immediately to make known the Nature and Amount of their respective Demands". Therefore this new publishing enterprise was timely.

The Oriental Miscellany, being a collection of the most favourite airs of Hindoostan, compiled and adapted for the Harpsichord, was first published in Calcutta in 1789, and later In Edinburgh (c.1805). Dedicated to the first Governor-General of India, Warren Hastings, it attracted over 250 subscribers including Earl Cornwallis, chief administrator of the East India Company in Bengal, and Sophia Plowden, a fellow harpsichordist, singer and good friend of Margaret Fowke, who compiled her own beautiful manuscript now housed at the Fitzwilliam Museum, Cambridge. The first publication of the Oriental Miscellany contains 30 songs (most of which are also arranged for guitar), in different Indian vocal styles transcribed from live performance, with titles transliterated from the original Arabic script, though no actual verse. Bird's transliterations were highly criticised by the grammarian John Gilchrist. Bird also composed a Sonata for harpsichord with violin or flute accompaniment, which weaves 'select passages' from at least eight of the airs into its various movements, creating a medley of tuneful fragments with titles that appear in the score, perhaps the first work of East-West fusion.

"I have nothing but bad news to tell of every sort and kind. I have just been touching my harpsichord, and to my infinite concern find it bewitched – It was tuned yesterday, and last night it was in perfect order – this morning just as I intended rattling off my cords, I found the keys did not answer to my touch – it sounds as an old harpsichord does that has not been tuned for ten years – some of the keys have no sound - some have a dumb kind of tone – In short this charming instrument is quite ruined.... Very heavy rains have fallen for these two days, and last night the air was so damp that as I played upon the harpsichord, you would have imagined water had been thrown all over the keys."

Jane Chapman is professor of harpsichord at The Royal College of Music. Described in The Independent on Sunday as "Britain's most progressive harpsichordist" and in the Guardian as "a fearless contemporary music performer" Jane Chapman is at the forefront of creating and inspiring new music for harpsichord. She has premiered over 200 solo, chamber and electroacoustic works for the instrument worldwide. Equally passionate about baroque and contemporary music, she has collaborated with ground-breaking composers, artists and dancers, working with musicians from the worlds of Indian music, jazz, and the avant-garde.

"Jane Chapman uses the harpsichord's features - machine stop, lute stop - to full advantage. Early Music Review

"Remarkably colourful performances…ornamental flourishes unlike anything found in European music of the time." Telegraph

As both a recitalist and orchestral musician, Yu-Wei Hu has performed baroque and classical flutes throughout the UK and Europe. She performs classical flute with Swedish guitarist Johan Lofving as the Flauguissimo Duo and those who attended their concert in Richard Booth's Bookshop in November last year will remember their delightful performance.

The Oriental Miscellany: Airs of Hindustan with Jane Chapman "...a Sonata composed by Bird, which weaves at least eight Hindu airs into standard galant structures, played with flair and panache by flautist Yu-Wei Hu." - Noel O'Regan, Early Music Review

Tickets sold by Richard Booth's Bookshop on behalf of Hay Music.
Why not join us for a light supper, consisting of items selected from our café menu? Available one hour before the show.
Supper Vegetarian option
£15.00