This Event
Hay Chamber Music Festival: The Fitzwilliam String Quartet
Friday 27th April 2018, 7pm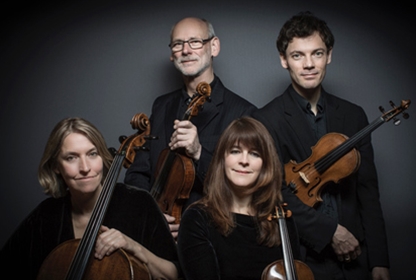 Hay Music presents 'SCHUBERTIADE' with THE FITZWILLIAM QUARTET.


During Schubert's lifetime a Schubertiade was generally an informal, unadvertised gathering held at a private home. In early 19th-century Vienna they were typically sponsored by wealthier friends or aficionados of Schubert's music.

Programme:
Quartettsatz in C minor, D703
 
- Quartettsatz is the tuneful first movement of a string quartet that Schubert never completed. The Quartet will add the second movement Andante as realised and completed by Professor Brian Newbould.
String Quartet in A minor, D804 (Rosamunde)
 
- The second movement of the Quartet in A minor lent the quartet its nickname, being based on a theme from the incidental music for Rosamunde.

String Quartet in G major, D887
 - Quartet in G major is regarded by many as Schubert's greatest string quartet. It is heard less frequently than the composer's previous two quartets, not because of its lesser quality, but maybe because of its greater length.

Tickets sold by Richard Booth's Bookshop on behalf of Hay Music.
Please note: this concert takes place at St. Mary's Church, Hay-on-Wye.