COMING SOON...
TICKET INFO
COST
Adults from £10.00
Under 15s £6.00
(where applicable)
ORDER ONLINE
Add tickets to your basket and pay by card. Please bring your emailed receipt (on paper or smartphone) and exchange for tickets at the door.
ORDER BY PHONE
Telephone: 01497 822010
12pm to 6pm
PLEASE NOTE
Cinema Tickets are
NON-REFUNDABLE

"Holding hands at the movie show, when all the lights are low, may not be new, but I like it, how about you?"
THIS SCREENING
NT Live: Macbeth  (15)
Live Theatre
Thursday 10th May 2018, 7pm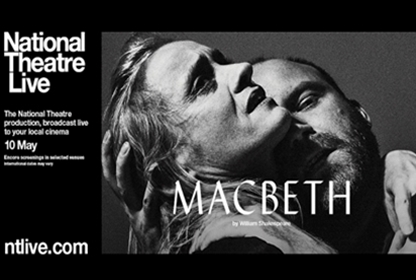 Certificate 

Duration 210mins
Shakespeare's most intense and terrifying tragedy, directed by Rufus Norris (The Threepenny Opera, London Road), will see Rory Kinnear (Young Marx, Othello) and Anne-Marie Duff (Oil, Suffragette) return to the National Theatre to play Macbeth and Lady Macbeth.



Why not join us for a light supper, consisting of items selected from our café menu? Available one hour before the show.
Supper Vegetarian option
£15.00