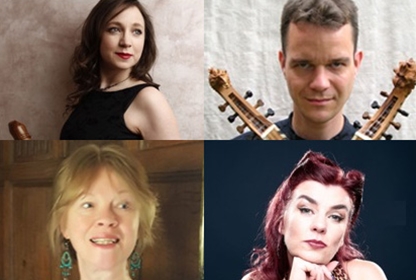 Hay Music invites you to join The Amyas Duo and Duo Maddalena (lute, woodwind, viella-a-roue, percussion and voices) for a feast of sacred and secular medieval music from England, France and the Netherlands.

In this varied selection of instrumental and vocal music, the Amyas Ensemble and Duo Maddalena recreate the soundscape of mediaeval France, England and Spain. Music by Troubadours and Trobairitz such as the Comtessa Beatrice de Dia, are intertwined with lute-songs by Binchois, up-beat dances by Machaut, a contemporary setting of a Trobairitz poem by Tansy Davies, and a range of serious, humorous and devotional anonymous pieces.

Amyas, represented in this concert by Emily Baines (woodwinds) and Arngeir Hauksson (lute, percussion), are a period instrument group specialising in exuberant performances of historical repertoire. They are specialists in historically informed performance, as well as carrying out cutting-edge research into earlier practices. The group are committed to an understanding of history but also to embracing the 21st century and new possibilities for performance spaces and techniques. Similarly, they are passionate both about discovering unknown early sources and also improvisation and composition. Their performances range from the well-loved classics of the eighteenth century (imbued with their typical flair of course!) to electronic manipulation of medieval songs and dances - and everything in between.

Duo Maddalena is formed of Janet Oates (soprano, percussion) and Lucy Green (mezzo, hurdy-gurdy). They specialise in three aspects of music, and their interactions: early music; contemporary classical music; and music by women composers, offering programmes of entirely mediaeval, renaissance or baroque pieces; entirely newly-composed works; or eclectic mixes. For each concert they invite friends and colleagues to join them, providing historically informed accompaniment. They are also interested in new music written for early instruments, and commissioning new works. In and across both earlier and contemporary periods, music by women features in most of their performances, and they enjoy seeking out and arranging or translating little known works.

Emily Baines is a professional recorder player, lecturer and musical director working throughout Europe also specialising in a wide variety of historical woodwinds. She trained at: the University of Hull, the Koninklijk Conservatorium (The Hague) and the Guildhall School of Music and Drama where she recently completed her doctorate on the role of mechanical musical instruments as sources for eighteenth century performance practice. She is a member and co-founder of Blondel (medieval and renaissance wind band), selected in 2016 as one of BBC Radio 3's 'Introducing' acts and who have recently released their second album "Owre Kynge Went Forth'; telling the story of Henry V and the battle of Agincourt in words and music Theatre work has included musician and musical director roles for Jericho House, Barbican BITE, Just Enough Theatre Co., Shakespeare's Globe and the National Theatre including the Globe's premier Broadway transfers of Twelfth Night and Richard III in 2013. She has recently finished touring the UK as Musical Director/Band Leader on Jessica Swayle's Olivier Award winning, 'Nell Gwynn', following a successful run in London's West End and concluding with sell-out performances at the Globe. She also lectures on music and Shakespeare's theatre for the Globe's education department.

Arngeir Hauksson was born in Iceland but came to London for his postgraduate studies on the guitar and the lute at the Guildhall School of Music and Drama. He now specializes in historical plucked instruments from the medieval, renaissance and baroque periods, performing on copies of original instruments. He also plays classical, folk and electric guitars, as well as percussion and the hurdy-gurdy. Arngeir performs and records with many major English ensembles and opera companies. These have included The Sixteen, Ex Cathedra, City Musick, Blondel, Glyndebourne, English National Opera, English Touring Opera, Opera North, the BBC Concert Orchestra and BBC National Orchestra of Wales. He has for 10 years been a principal player and musical director for Shakespeare's Globe Theatre, also performing in the National Theatre, London's West End and on Broadway, New York. He has a keen interest in new music and has collaborated with artists such as Damon Albarn, Sally Beamish, Tony Allen, Bruce Dickinson and William Lyons and he regularly performs in The Historic Royal Palaces, Hampton Court Palace and Tower of London.

Janet Oates is interested in early and contemporary music, and in involving the widest possible range of people in a whole spectrum of music-making. She holds a PhD in composition and has composed a chamber opera, a community opera, an oratorio, prize-winning songs and other chamber works. Several of her songs can be found on the recent CD from Divine Arts, called Sappho, Shropshire and SuperTramp. She teaches at Richmond Adult College and conducts several choirs including the experimental contemporary ensemble, CoMA Singers (www.coma.org). She is co-founder of the Richmond New Music Collective and curates the composition project 'Closet Music' which has produced two volumes of work and a gallery exhibition. She has sung many lead roles with Isleworth Baroque, as well as performing in solo recitals, oratorio and the professional choir Coro Cervantes. She has premiered works by Tansy Davies, Colin Riley, Greg Rose and others. Janet is one third of The Decibelles, an a capella trio singing jazz, pop and retro songs. Her most recent project is the professional vocal ensemble Philomel , comprising 6 sopranos singing a combination of late Renaissance works and new commissions, particularly the works of women composers from both these periods.

Lucy Green is a music educationalist whose work bringing the informal learning practices of popular musicians into school classrooms and instrumental studios has reached countries across the world. She is Emerita Professor in Music Education at the UCL Institute of Education in London, and now lives in Hay-on-Wye. She did a B.Ed in Music at Homerton College Cambridge, then a Masters in Music and a Doctorate in Music Education at Sussex University. She holds an LRAM in piano teaching and a DipRSM in vocal performance. Firmly committed to community music in all its incarnations, she was, until moving to Hay, Assistant Musical Director and Stage Director of Richmond Opera, an inclusive group in West London, as well as being involved in a range of other groups. As a singer she concentrates on the early music repertoire. On the stage she has sung the lead in Handel's Solomon, Juno in Eccles' The Judgement of Paris, Speranza in Monteverdi's Orfeo, the Sorceress and spirit in Purcell's Dido and Aeneus (all with Isleworth Baroque); third lady in Mozart's Magic Flute (Harrow Opera); the Fairy Queen in Gilbert and Sullivan's Iolanthe (Richmond Choral Society); and others. She has performed solos from works such as Bach's Magnificat and St Matthew Passion, Vivaldi's Gloria, Britten's Ceremony of Carols, and Handel's Messiah; and gives regular recitals.