COMING SOON...
TICKET INFO
COST
Adults from £10.00
Under 15s £6.00
(where applicable)
ORDER ONLINE
Add tickets to your basket and pay by card. Please bring your emailed receipt (on paper or smartphone) and exchange for tickets at the door.
ORDER BY PHONE
Telephone: 01497 820322
PLEASE NOTE
Cinema Tickets are
NON-REFUNDABLE
Food or Beverage brought in from outside our cinema is not permitted and may be confiscated.

"Holding hands at the movie show, when all the lights are low, may not be new, but I like it, how about you?"
THIS SCREENING
NT Live: Antony & Cleopatra
Live Theatre
Thursday 6th December 2018, 7pm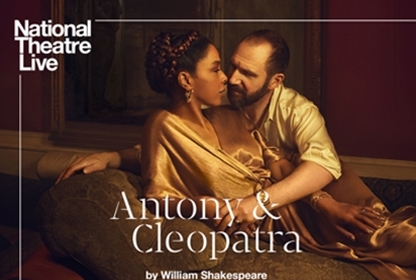 Broadcast live from the National Theatre, Ralph Fiennes and Sophie Okonedo play Shakespeare's famous fated couple in his great tragedy of politics, passion and power.
Caesar and his assassins are dead. General Mark Antony now rules alongside his fellow defenders of Rome. But at the fringes of a war-torn empire the Egyptian Queen Cleopatra and Mark Antony have fallen fiercely in love. In a tragic fight between devotion and duty, obsession becomes a catalyst for war.
Director Simon Godwin returns to National Theatre Live screens with this hotly anticipated production, following previous broadcasts of Twelfth Night, Man and Superman and The Beaux' Stratagem.
Why not join us for a light supper, consisting of items selected from our café menu? Available one hour before the show.
Supper Vegetarian option
£15.00