COMING SOON...
TICKET INFO
COST
Adults from £10.00
Under 15s £6.00
(where applicable)
ORDER ONLINE
Add tickets to your basket and pay by card. Please bring your emailed receipt (on paper or smartphone).
ORDER BY PHONE
Box Office: 01497 822010 Open one hour before first screening, until 8pm.
LIVE EVENTS BOOKINGS CREDIT CARD ONLY
PLEASE NOTE
Cinema Tickets are
NON-REFUNDABLE
Food or Beverage brought in from outside our cinema is not permitted and may be confiscated.

"Holding hands at the movie show, when all the lights are low, may not be new, but I like it, how about you?"
THIS SCREENING
ROH: Romeo & Juliet
Live Ballet
Tuesday 11th June 2019, 7.15pm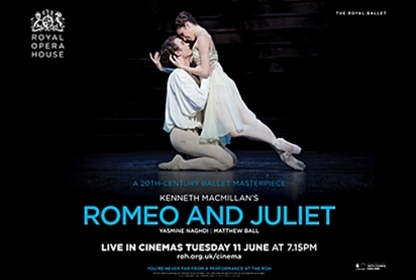 Shakespeare's enduring love story is known the world over. Since its 1965 premiere with The Royal Ballet, Kenneth MacMillan's Romeo and Juliet has become a modern ballet classic. The choreography captures the emotions of the young couple as they fall in love, despite the barriers that finally bring about the story's tragic end. Each revival gives opportunities for new dancers to interpret the doomed lovers. The whole Company brings the colour and action of Renaissance Verona, where a busy market all too quickly bursts into sword fighting, and a family feud leads to tragedy for both the Montagues and Capulets.

Yasmine Naghdi (Juliet), Matthew Bourne (Romeo)

Running time: 195mins
Three acts with two intervals.