COMING SOON...
TICKET INFO
COST
Adults from £10.00
Under 15s £6.00
(where applicable)
ORDER ONLINE
Add tickets to your basket and pay by card. Please bring your emailed receipt (on paper or smartphone).
ORDER BY PHONE
Box Office: 01497 822010 Open one hour before first screening, until 8pm.
LIVE EVENTS BOOKINGS CREDIT CARD ONLY
PLEASE NOTE
Cinema Tickets are
NON-REFUNDABLE
Food or Beverage brought in from outside our cinema is not permitted and may be confiscated.

"Holding hands at the movie show, when all the lights are low, may not be new, but I like it, how about you?"
THIS SCREENING
NT Live: Small Island  (12A)
Filmed live at the National Theatre
Thursday 27th June 2019, 7pm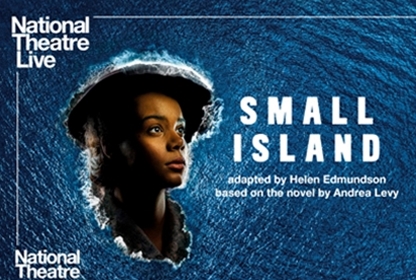 Certificate 

Duration 170mins
Adapted by Helen Edmundson
Based on the novel by Andrea Levy
Andrea Levy's Orange Prize-winning novel Small Island comes to life in an epic new theatre adaptation. Experience the play in cinemas, filmed live on stage as part of National Theatre Live's 10th birthday.
Small Island embarks on a journey from Jamaica to Britain, through the Second World War to 1948 – the year the HMT Empire Windrush docked at Tilbury.
The play follows three intricately connected stories. Hortense yearns for a new life away from rural Jamaica, Gilbert dreams of becoming a lawyer, and Queenie longs to escape her Lincolnshire roots. Hope and humanity meet stubborn reality as the play traces the tangled history of Jamaica and the UK.
A company of 40 actors take to the stage of the National Theatre in this timely and moving story.
You need to log in in order to add items to your wish list