Events
Saturday 19th August 2017, 7.30pm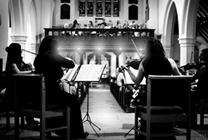 Something light for the August holiday season, the adventurous Camilli Quartet play for Hay Music a rarely heard string quartet version of Vivaldi's ever-popular Four Seasons and, to follow, toe-tapping music by, amongst others, Gershwin, Cole Porter and even Scott Joplin!
Tickets sold by Richard Booth's Bookshop on behalf of Hay Music.Please note: this concert takes place at Richard Booth's Bookshop, Hay-on-Wye.

Book Tickets | More Info
Friday 1st September 2017, 5pm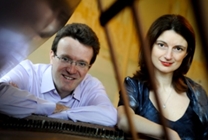 Hay Music's September early evening concert is in the glorious setting of Dorstone House giving us piano music for four hands on the superb Bosendorfer. We all know the composers well but less so the works they wrote for four hands.
Tickets sold by Richard Booth's Bookshop on behalf of Hay Music.Please note: this concert takes place at Dorstone House and is at 5.00pm (not 3.00pm as is usual)

Book Tickets | More Info